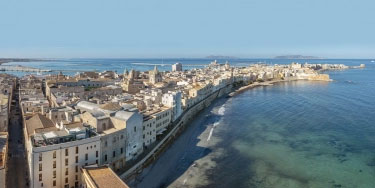 Travel Promotions
For all promotions in force at the time of the request, an email must be sent to the residence specifying the promotion chosen. For all promotions, the rates will be valid until 01/09/2022.
Can't wait to unplug and spend some time in a paradise location with maximum comfort? Treat yourself to the vacation of your dreams by taking advantage of our Travel offers and promotions.
Book your holiday in Trapani and get the best prices, with promotions and offers tailored just for you.
La Gancia has prepared several solutions for you to ensure a stress-free stay at the best conditions.
Treat yourself to quality time in a location whose priority is the well-being of its guests.
Treat your partner to a romantic weekend, discover all the attractions of the beautiful city, visit the Salt Pans, take a bike excursion through the magnificent reserves that embrace Trapani and lose yourself in an unforgettable, colourful sunset.
What are you waiting for? Book the best solution for you now and get blown away by the smell of the sea and the sound of the waves in wonderful apartments with sea view.