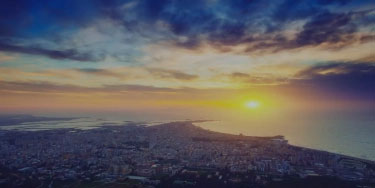 Many unmissable locations for your holiday in Trapani
The Residence overlooks one of the city's beautiful beaches, open to the enchantment of the Gulf. It is only 45 minutes from Palermo airport and 30 minutes from Trapani airport.
As if risen from the waters, the Venus sculpture dominates the magnificent little square in front of it, from which a superb seaside promenade runs along the old Mura di Tramontana, leading to a surprisingly interesting historical centre.
The city preserves the memory of the many cultures that have succeeded one another over the centuries, attracted by the strategic location and splendour of this land.
Founded by the ancient Elimi people, Trapani was largely inhabited by the Phoenicians, who made it a prosperous colony. After Roman domination, it was the Arabs, in the 9th century A.D., and later the Normans, who initiated a period of great splendour that continued under Aragonese and Bourbon influence, until Garibaldi's liberation in 1860.
And so, along the streets of the old town, designed to favour the trajectories of the wind, churches, buildings and monuments follow one another, an endless succession of artistic styles, historical eras, legends lost in the mists of time.
Such as Palazzo Cavarretta, now the seat of the city council, dating back to the 15th century and later adorned with a grandiose Baroque front, or the 14th-century Dome of St. Augustine, built by the Knights Templar, adorned with a superb rose window chiselled with the symbols of the three great monotheistic religions, Christian, Islamic and Jewish, right in front of the statue of the god Neptune, mythical founder of ancient 'Drepanon'.
It is an endless story, which continues in the rooms of the Pepoli Museum, a former Carmelite convent of the 14th century, which collects the most brilliant artistic testimonies of the Trapani civilization.
In the old port district, the maze of alleys becomes more dense, among the small tuff houses and improvised altars of popular worship. From here, fishermen and "corallai" left every day, challenging the waves, and women waited for them, entrusting to the Virgin their return.
It is the truest Trapani, the one with its roots in the sea.
Just like the splendid Tower of Ligny, surrounded by the waters, the city's extreme offshoot and its symbol. Set on a terrace overlooking the ancient city on its gulf, as far as the eye can see, in the curved horizon of an enchanting sea.