Enraptured by the beauty of the Egadi Islands
A short but evocative crossing connects the port of Trapani to the Egadi Archipelago nature reserve. Three different islands set on a single sea, where the world seems to obey other rules.
Favignana is the largest and offers the greatest variety of landscapes. Rugged cliffs plunge into the sea and outline beaches, caves, inlets. From the crystal-clear sands of Cala Azzurra, to the superb rocks of Bue Marino or Cala Rossa, the island offers an infinity of natural views that make it a paradise for tourists, who flock to it in the summertime.
Favignana's economy was based for many decades on tuna fishing, based on the traditional practice of 'mattanza', which is now in disuse, but survives in the atmosphere that pervades the old streets, in the stories of the locals, in the delights of the gastronomy.
In Levanzo, on the other hand, everything is in miniature, the village and the small harbour merging with the wildest nature, a solitary paradise. A single mule track crosses it from one side to the other, from the small port wedged in the rocks to the Capo Grosso lighthouse, beaten by an incessant wind, overlooking the sea. Not to be missed is a visit to the Grotta del Genovese, an extraordinary prehistoric testimony in which graffiti dating back over 10,000 years can be seen, indicating the presence of a community already at that time dedicated to tuna fishing, based on tribal bonds and devoted to the practice of magic.
Further from the coast is Marettimo, stretching out like an outpost on the open sea. These waters hold timeless secrets, locked forever in the wrecks on the seabed, in memory of the glorious Phoenician, Greek and Roman routes, and the bloody battles that took place there over the centuries. It is the most unspoilt destination of the archipelago, an extraordinary naturalistic oasis crossed by paths dominated by silence, suspended over crystal waters. The fishermen are the only inhabitants of this place, they are the ones who lead the tour of the island, to listen to the secrets that echo in the caves.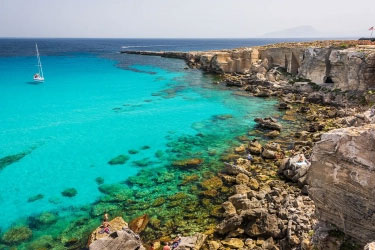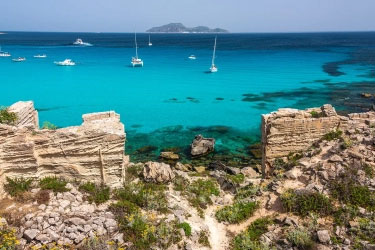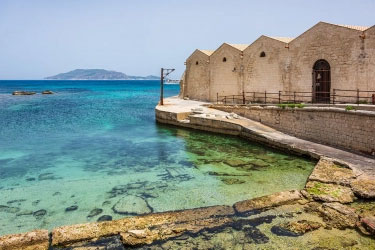 Promotions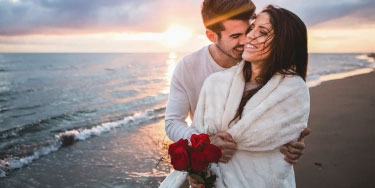 A romantic getaway is just what you need to surprise your beloved and set aside some time just for you.
A romantic weekend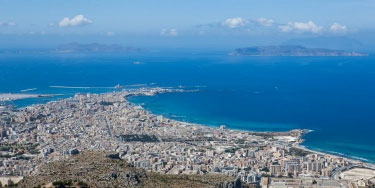 Discover the magnificent city of Trapani and take advantage of a special 5% discount reserved to you.
Discovering Trapani